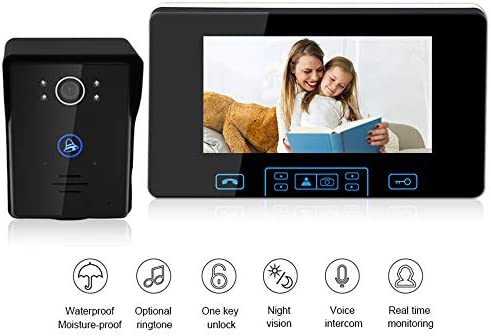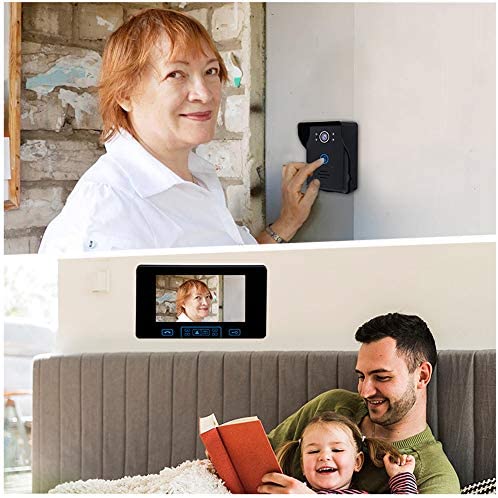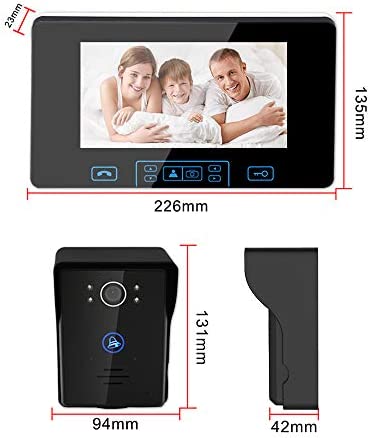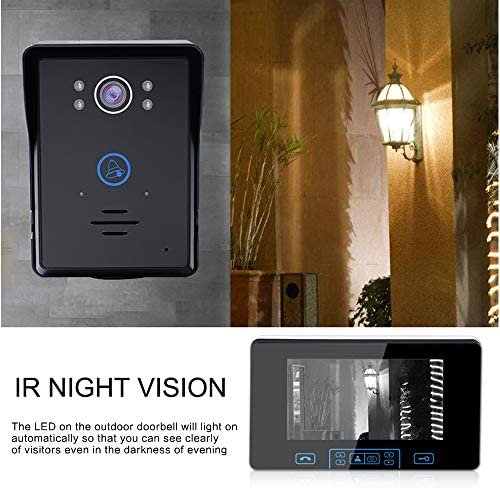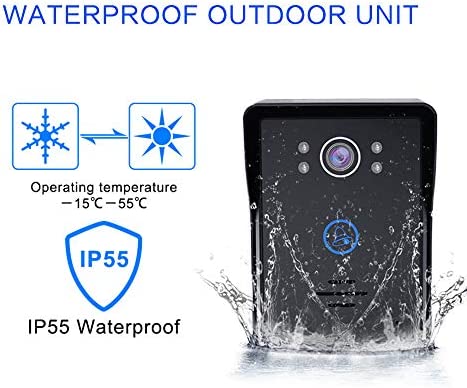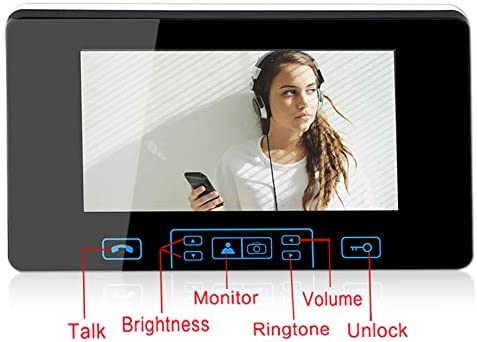 Price: $145.99
(as of Jan 18,2021 20:23:40 UTC – Details)
Product Description
Our Wireless video doorbell with an indoor 7-inch color monitor and HD IR outdoor camera ,and combines many functions in one: surveillance, unlock,hands free call and talk, etcis, provides added security and convenience to you and your family.
video door phone intercom is widely used in apartment,hotel,villas,office,building and so on,the system is composed of outdoor camera,indoor monitor such two parts, the outdoor camera is easy to install,you can use the indoor monitor where the wireless signal can reach,indoor monitor can hang on the wall ,cabinet,can also be place on the desk, tea table,dining table.
Note: In order to ensure the safety during transportation, we do not have enough power for the battery, you needs to charge the battery by yourself or directly charge it with the power adapter. After receiving the product, please charge the battery for a few hours before using it. We suggest placing the battery into the monitor(indoor unit) for charging. After the battery is fully charged, replace the battery of the camera(outdoor unit)
Package Contents:
1 X 7-Inch indoor Monitor
1 X HD Outdoor Doorbell
1 X Power adapter for outdoor camera
1 X USB power adapter for indoor monitor
2 X BL-5J battery
1 X bag of Screw and stopper
1 X Anti-Rain cover
1 X Brochures
CAN NOT CONNECT PHONE

Adopt 2.4GHz digital frequency hopping and encryption technology, long transmission distance, robust anti-interference, less consumption. Effectively improve communication quality.
Note: our wireless video doorbell can not connect Wifi and Phone.
Connect to Electric Lock

If want to connect the electronic lock, you can use 3-Pin terminal cable(include) plug in outdoor camera and to connect lock comtroller(not include) , must need use lock comtroller(not include)to connect the wire of the lock,if the cable is not enough ,you need to extend the cable to connect.
Note: Pls do not connect the outdoor camera with the electronic lock directly .
Notes: We suggest that the distance between wireless unlock control and outdoor camera should be within 10m so that wireless unlock control can receive unlock command.
Adjust volume and ringtones
Digital video door phone intercom sysytem can adjust the brightness, ringtone volume , talk volume and select different ringtones
1. Brightness:Indoor monitor has dynamic image from outdoor camera,press Up or Down button to adjust brightness,level:0-7
2. Melody :In open mode,press Left or Right button to select one of the 16 chord melodies
3. Ringtone volume: Press"volume" button(left) to adjust volume,level: 0-2
4.Talk volume:In the talk mode,press Left or Right button to adjust the talk volume,level:0-7
IR NIGHT VISION
Outdoor camera with high sensitivity touch key and clear IR night vision can monitor and capture images in low-illumination environment,help you to see clearly who is knocking the door even at night.Make sure your family is safe.
Waterproof and Dust-proof
Our wireless video doorbell intercom with 2.4GHz launch frequency, up to 300meters transmission distance at open area.
Outdoor camera With a rain proof cover to prevent the water and protect the outdoor camera from damage.
Real-time Monitor – Our wireless video doorbell can see, hear and speak to anyone at your door real-time, can make your family is more safer.
Take photo – With 7″ TFT color display, indoor monitor can take pictures automatically and store up to 100 pictures with date and time.
IR Night Vision – Equipped with IR sensor and LED,the camera can automatically switch the light to ensure you clear view on night.
Use by battery or power – Video door phone intercom kits can use by battery or power.you can use power to charging the battery when the battery is out of power.
Lock Control – Control up to electric locks directly from the color monitor for even further security and convenience


2.4G Wireless Video Door Phone Doorbell Intercom System 7-inch Color Monitor and IR Night Vision Camera Video Doorbell Kits for Home Security,Support Monitoring,Unlock