Price: $99.99 - $79.49
(as of Jan 18,2021 20:19:55 UTC – Details)
Product Description
Multi-Users Sharing
You could share the device with up to 8 people, allow 3 users to view the feed, and 1 user cause the direct intercom.
PIR Motion Sensor Alerts
Get notified on your smartphone from anywhere in the world on your phone when someone is at the door, providing an extra level of smart security.
Adjustable Motion Sensor
Low Sensitivity: Moving persons, large moving pets and any other large moving objects.Medium Sensitivity: Moving small pets and any other medium moving objects.High Sensitivity: Moving insects, moving leaves and any other small objects.
Free Cloud Storage
CHWARES Video Doorbell provides with Free Could Storage, you can review your last 7 days video and have a segmented playback of all-days detail.It doesn't support SD card storage.
Smart Security WiFi Doorbell Camera with Wireless Chime

All Accessories
Wireless Video Doorbell*1Wireless Doorbell Chime*118650 Batteries*2Screw set*1User Manual*1USB Cable*1
CHWARES Security
Your home's safety is always top of mind. Video doorbell is the extra set of eyes and ears needed to protect your home. You'll always know who and what is at your door – even when you're away. It's a 'must have' for a safe and secure home. With the CHWARES Video Doorbell, you won't have to leave your seat to check the front door. Just open the LiveHome App on your phone to see who's stopping by.
Warm Tips:
Not support 7/24 all day recording. It only starts to record videos when the PIR sensor of the camera detects the movements.Only work with 2.4GHz Wi-Fi router, not work with 5Ghz Wi-Fi.Wifi connection is affected by network signalss,please make sure you has strong wifi signal.The door bell must be charged before connect to wifi.
Specification
Color: Black
Material: ABS
Product Weight: 123 g
Product Size: 5.1*2.9* 1 inches
Package Weight: 360 g
Package Size: 7.87*3.74*3.35 inches
Rechargeable Battery
The security doorbell camera is powered by rechargeable batteries (built-in battery 2 pcs 18650 lithium batteries, 2600 mAh capacity) – So there's no need to keep them plugged into to electric sockets.
Two-Way Audio
With a high-quality microphone and speaker, CHWARES Video Doorbell allows you to talk with visitors anywhere.
Easy Installation
Not everyone has the wiring necessary to install a smart doorbell, so our battery-powered doorbell is convenient for many people, especially renters. Comes with all the tools you need to install and set up your doorbell camera in just minutes.
Wireless Chime Included
CHWARES Video Doorbell comes with a free premium chime. You can put it in your dining room, bedroom, or courtyard. The 4-level adjustable volume and 38 beautiful tunes can meet your needs.
【Free Cloud Storage & Weather Resistant】CHWARES Video Doorbell are one-time purchases that combine security with convenience. Records and stores all motion activity for up to 7 days via FREE cloud storage. To make sure your protection stays up around the clock we use an IP65 Waterproof design. It's safe to use in all weather conditions, which makes it ideal for use all through the year.
【Motion Detection & Night Vision】CHWARES video doorbell helps you maintain safety by viewing whoever is at your door without opening it. Live video recording can be activated right after a detected human motion, and be recorded to the Cloud. Quick alerts will be sent to your phone as well. Night vision will auto awitch day and night vision when it decects brightness around, showing the high-resolution video days and nights for you.
【Easy Installation & Free Chime Included】Easily setup your CHWARES Video Doorbell by connecting to wifi via the app and mounting in your desired location. CHWARES Chime supports 38 fun and holiday themed ringtones and adjustable volume level.
【Full 1080P HD Video & Two-Way Audio】Full 1080P HD video doorbell that lets you see, hear and speak to people from your phone or tablet. Speak directly to anyone who approaches your front door via two-way audio. Tell your friends to come round the back or that you have just run out to get some milk.
【Ultra Lower Power & Attention】Comes with two high capacity 18650 rechargeable batteries, the batteries can work for more than 3 months in standby mode, get the instant battery situation via your phone APP, no more worry about charging. Please tear off the insulation sheet on the bottom of the batteries and make sure the full charge around 14 hours before using. If you have any question, please feel free to contact us and we will try our best to satisfy your need.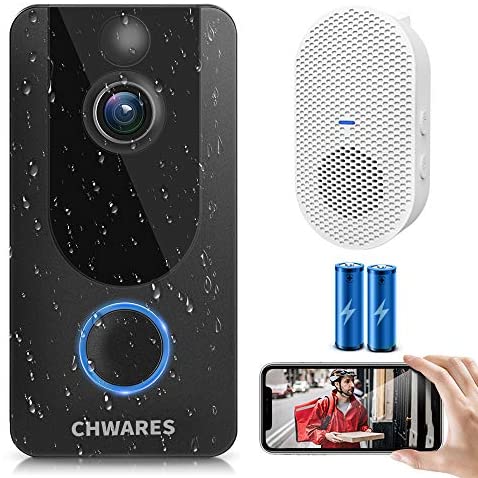 CHWARES 1080P Smart Video Doorbell Camera with Chime, Wireless Wi-Fi Smart Video Doorbell Security Camera with Motion Detection, 2-Way Audio, Night Vision, Weather Resistant (Free Cloud Storage)