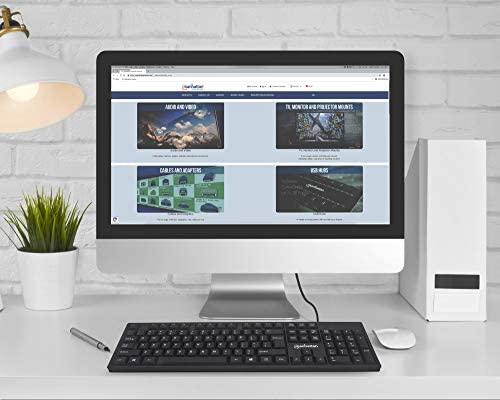 Price: $11.99
(as of Jan 19,2021 14:31:47 UTC – Details)
Product Description
User Focused
The Manhattan Wired Keyboard sets you up for success and lets you focus on the task at hand. Because it's USB-bus powered, you never have to worry charging it up or changing the battery. The bright LED indicators let you know right away what function you're in, whether that's typing in all caps or entering only numbers into a spreadsheet. You don't have to configure any settings or have your computer "find" the keyboard. You plug it in, and you're ready to go.
Built for People Who Type

Enter text or numbers like a pro
The Manhattan Wired Keyboard plays a key part in getting work done. If you need to take what's in your head and put it into a computer file, this is the tool that will help you do it. It faithfully records each key you press and can withstand the tough keystrokes you make when you're "in the zone."
Full key layout
Strong key structure
Immediate familiarity
Multiple Applications

Dock/Workstation Setup
To setup a workspace with a dock or workstation, you'll likely need a keyboard that's different from the one on your laptop. This keyboard is the perfect fit since you can setup up your peripherals at the doc, while the cable lets you place the keyboard where you want it.
As a Replacement
If your keyboard is on the fritz or has already stopped working, this keyboard gets you setup and working in no time. This is because it has the layout you're used to and uses same shortcut functions you're familiar with.
As a Backup
Accidents happen. And it's so easy to spill liquids on keyboards and render them unusable. It's wise to have one on hand so you aren't left high and dry when you need to get work done.
About Us

For more than 25 years, Manhattan has developed and introduced exciting products – from computer peripherals and home networking, to mobile accessories, headphones, speakers and a variety of cables and adapters – that offer extraordinary value and industry-leading warranties. Our product mix allows us to offer people of all ages and levels of tech savviness the solutions that suit their budget and lifestyle. Everything we do is about making life easier, from our website, to our packaging, to our user manuals and more — they're all created to simplify and enrich your experience. Headquartered in Tampa, Florida, Manhattan has offices on four continents and employees throughout the globe.
[Full-sized Keyboard] Offers 104 keys, including navigational controls, full functions and a 10-key keypad
[Status LEDs] Includes lights for Num Lock, Caps Lock, Scroll Lock functions
[Ample-Length Wired Connection] Keyboard's 5-ft. wired connection gives you plenty of room to setup your keyboard where you want it
[Plug and Play] Connects you to your PC or laptop right away so you can get working or playing
[Built to Last] Switch life of each key withstands up to 3,000,000 keystrokes



Manhattan Black Wired Keyboard (5 ft. USB-A Cable) with 104-keys, Foldable Stands, and LED Indicator Lights – Compatible for Windows