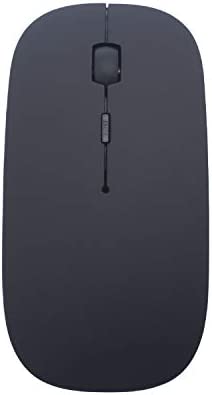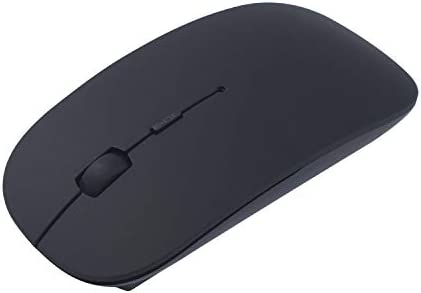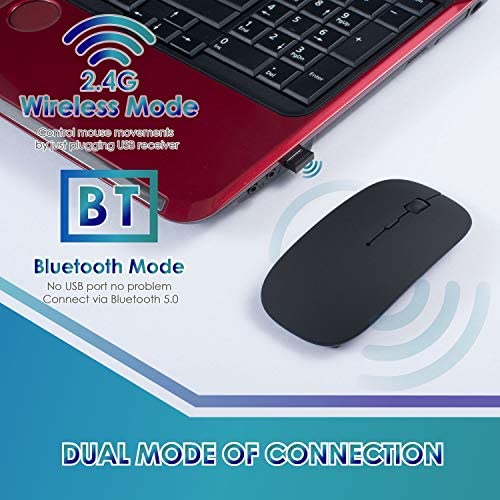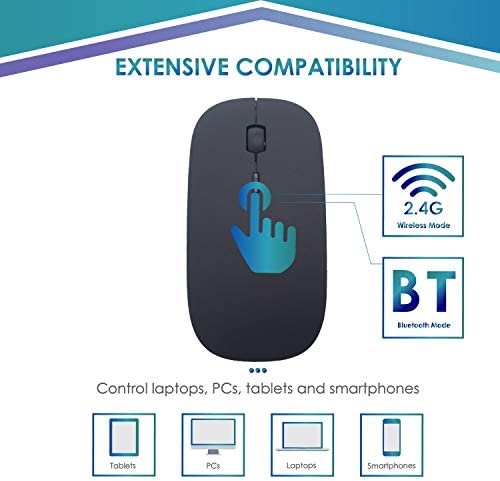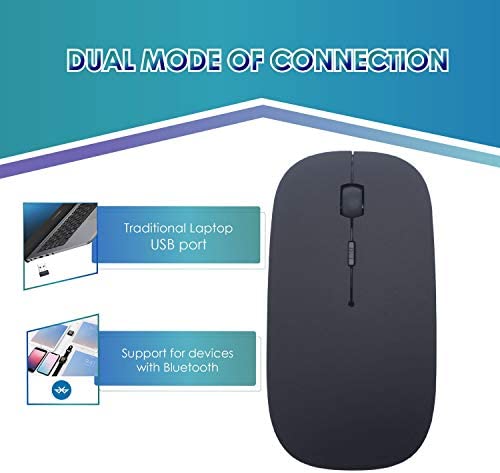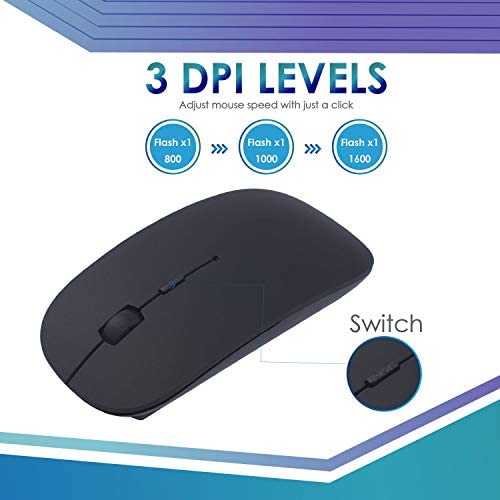 Price: $11.99
(as of Jan 18,2021 19:58:04 UTC – Details)
1 x 2.4G BT Dual Mode Wireless Mouse
Product Description:
1 x 2.4G BT Dual Mode Wireless Mouse
Dual mode of connection: 2.4G Wireless Mode and Bluetooth 5.0 Mode.
It can work on 2 devices at once, connecting with 2.4G with your first device, and Bluetooth with your second device. You could switch the mode between two devices by just a click.
Note: You can't use Bluetooth mode and 2.4G mode at the same time.
With 2.4G Wireless Mode, simply plug in the USB receiver to your device and you're all set.
With Bluetooth 5.0, you may choose to connect your mouse without using the USB receiver. Even more perfect for devices without a USB port.
Compatible with laptops, PCs, tablets, and smartphones with USB port or Bluetooth connection.
3 DPI levels (800, 1000, 1600) allows you to adjust mouse speed with just a click using high-performance optical chips.
Stable connection up to 33 ft.
Mouse will enter sleep mode when it stays inactive for 8 minutes, which saves power and guarantees long battery life.
Reliable and long lasting. This mouse has passed 5,000,000 keystroke test to guarantee extra durability.
Slim design for ideal hand feeling.
Powered by 2 x AAA batteries (battery not included)
Product size: 4.4″ x 2.3″ x 1″
English manual included.
Note: BT 5.0 System Requirement: Windows 8.0 or above; MacOS 10.10 or above; iOS 13 or above and Android 4.3 or above. Please double check or update the operating system before purchase.
WORK 2 DEVICES AT ONCE: Connects with 2.4G with your first device, and Bluetooth with your second device. You could switch the mode between two devices by just a click. With 2.4G Wireless Mode, simply plug in the USB receiver to your device and you're all set. With Bluetooth 5.0, you may choose to connect your mouse without using the USB receiver. Even more perfect for devices without a USB port. Note: You can't use Bluetooth mode and 2.4G mode at the same time.
EXTENSIVE COMPATIBILITY: Compatible with laptops, PCs, tablets, and smartphones with USB port or Bluetooth connection. Note: BT 5.0 System Requirement: Windows 8.0 or above; MacOS 10.10 or above; iOS 13 or above and Android 4.3 or above. Please double check or update the operating system before purchase.
3 DPI LEVELS: (800, 1000, 1600) allows you to adjust mouse speed with just a click using high-performance optical chips.
RELIABLE AND LONG LASTING: Stable connection up to 33 ft. Mouse will enter sleep mode when it stays inactive for 8 minutes, which saves power and guarantees long battery life. Powered by 2 x AAA batteries (battery not included).
PORTABLE AND COMPACT: Slim design for comfortable hand feeling. Product size: 4.4″ x 2.3″ x 1″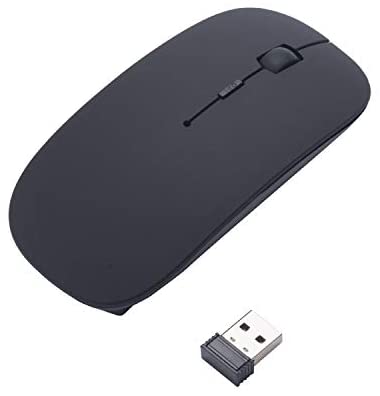 2.4G BT Wireless Mouse with USB Receiver, Portable USB Cordless Optical Mice Small Light Weighted Mouse with 4 Button Keys Compatible Computer Laptop Tablet Mac MacBook Gaming Travel DPI, Black